Awards and Achievements
CANadda's 1st award event for members only 2022
Volunteer Role - Star Cup Award
Winner - Sophie Marshall
Silver - April Wakefield
Bronze - Tom Schofield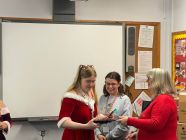 Changed My Life - Star Trophy Award
Winner - Shane Wray
Silver - Sophie Husband
Bronze - Adam Bourke

Extraordinary Individual - Star Special Award
Winner - Abigail Wells
Sliver - Chiara Collishaw
Bronze - Sophie Husband

New Member - Silver Star Award
Winner - Robert Green
Silver - Shane Wray
Bronze - Matthew Shier
Attendance - Star Well Done Award
Winner - Dominic Chapman
Silver - Sophie Marshall
Bronze - Chris Alderson

Long Outstanding Member - Gold Star Achievement Award
Winner - Dominic Chapmen
Silver - Chris Alderson
Bronze - Sian Hutchings

Endeavour - Adam Bourke Award
Winner - Matthew Shier
The Endeavour award is in memory of Adam Bourke who sadly passed away 2019. Adam was a huge part of CANadda and he used to love coming bowling with CANadda.
A massive thank you to Adam's mum Christine for supporting this award.
---
Outstanding Community Award 2022
Outstanding Community work with a lot of help from the Autistic Involvement group.
Autism Hero Awards 2022
Online Social Award 2022
Support Group Award 2022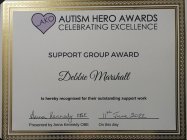 Lifetime Award 2022
---
BBC Make a Difference Award 2019
Green Team Of The Year 2019
This project was the work of the Autistic Involvement group doing a Sensory Garden for the community.
Ouside Sensory Area - View on YouTube
---
Learning Disability Leaders Award Winner 2018
Debbie Marshall, Learning Disability Leaders' List 2018, Changing Communities winner
---
Autism Professionals Awards