CANadda Events
Autistics Together » Tuesday 31st October 2017, 9am - 3.30pm
Make a note in your diary for the CANadda event: Autistics Together which will be held from 9am - 3.30pm at The Engine Shed, University of Lincoln, Brayford Pool, Lincoln, LN6 7TS.
This event is for adults only (no under 16's). Guest speakers are Dr Nikos Kargas, Ian Jordan, Alan Gardner (The Autistic Gardener), Jon Adams, Debbie Marshall and Tom Schofield.
Check out our Facebook page.
Tickets
To book your tickets, please visit: https://canadda.yapsody.com/event/index/131426/autistics-together.
Tickets must be booked in advance by 17th October. Tickets cost £35 but tickets booked early by 19th September will cost only £25. Refreshments and lunch are included in the ticket price.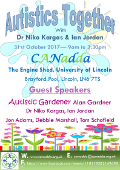 Full details of Autistics Together event.
---
Social Events
Please check our Facebook page for any additional information about our Social Events.
Cuppa Wednesday
10.30 am to 11.30 am (term time only) at the Queens Park Community HUB. Drop in to the HUB for a coffee and a chat.
Celebrating the 100th Newsletter » Wednesday 6th December
From 10:30am to 11:30am, at the Queens Park Community HUB.
---
Pictures and Information from Previous Events