CANadda
CANadda is a Community Adult Network support group for adults with an Autism Spectrum Disorder, Dyslexia, Dyspraxia and Attention-Deficit Hyperactivity Disorder
Welcome to CANadda. We are a friendly neurodiversity support group, based in Lincoln, for people on the autistic spectrum. Newcomers are warmly welcomed and membership is free.
Our services include:
Raising awareness of the different neuro conditions
Provide training and support for professionals
Social events
Information to help with employment and further education
A lending library of books and information
Neurodiversity ID Alert Card/Wristband scheme
Provision of Personal Safety Alarms
Open door service
---
What is 'Autism Friendly'?
There are many venues and public locations that are advertising themselves as 'Autism' Friendly' and yet there are no recognised official standards to define what that actually means.
We have put together some useful tips and guidlines on our Autism Friendly page to help people determine whether they really are Autism Friendly.
---
Raising Awareness In Lincolnshire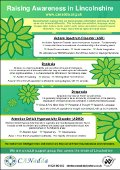 Click the icon to download CANadda's poster to help raise awareness of Autism Spectrum Disorder, Dyslexia, Dyspraxia and Attention-Deficit Hyperactivity Disorder.
---
Personal Safety Alarm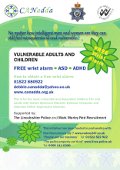 How to obtain a free Personal Safety Alarm.