2010 Events
Autism Conference 10th November 2010
Geoff and Debbie had a lovely day attending the Autism Conference in Branston. There were very good speakers, we meet some very nice people and made some new friends. It was also good to catch up with others we know, our lunch was yummy too.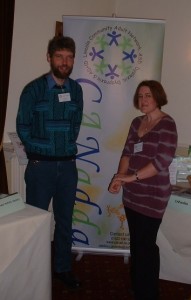 Geoff and Debbie, we had finished setting up and we were waiting for the conference to start.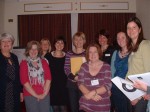 One of the workshops at the Autism Conference was on Dramatherapy, this was great fun and should've been out of Debbie's comfort zone but she loved it.
---
Tesco Community Fair 26th September 2010
CANadda was at Tesco on the Sunday 26th September as Tesco had a Community Fair. Zoe Creasey and I attended; we had a really lovely day.
Tesco put on a superb day laying on free food, drink and giving out freebies. It gave me an opportunity to raise some money for CANadda. This was CANadda's first general public event and I wasn't sure how we would be received. I am pleased to announce we got a really good response. I even had some bullying campaign posters up and they got a good reception from the public too.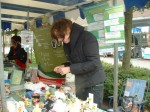 Zoe feeling the cold.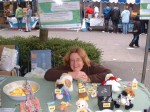 Debbie enjoying the experience.
---
Bowling 22nd September 2010
CANadda bowling on Wednesday 22nd September was a success; it ended up being all girls. We had two games and I did apologise to the other players as I (Debbie) won both games as I was on top form.
I know the others that attended were not impressed when I threw the ball, hurt my thumb and then ended up getting a strike. After we finished playing, we sat down and enjoyed the food and conversation.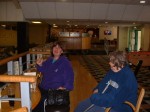 New members came along to meet me.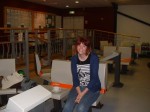 Lara waiting for her next go.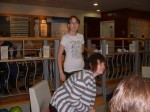 Claire and Zoe waiting for their turn.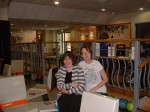 Claire and Zoe posing for the camara.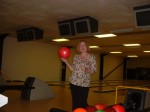 Debbie on form.
Debbie wins both games.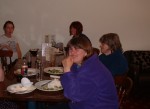 A few of us enjoying our lunch.
---
Autism Rally 21st August 2010
Debbie Marshall chair of CANadda and Phil Culmer part of the CANadda support team went to the 2010 Autism Rally to represent CANadda. Even with the bad weather, we had a great time.
It was a good job Jo, who was there as a speaker and is also part of CANadda's support team, came to Debbie's rescue, as the tent Debbie was going to be sleeping in had collapsed due to bad weather from a previous night. Debbie borrowed a tent from the organisers' for the night, but we could see the tent wasn't going to hold up if we had bad weather. Jo reinforced the tent by getting a piece of material from the collapsed tent.
There was a bad storm that evening. It rained so hard that the roads were flooded. Depsite that, Debbie made it though the night dry, to a sunny morning.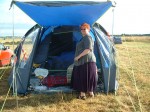 Jo by her tent.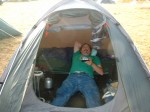 Phil Cumler relaxing in his tent.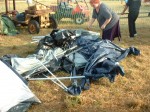 This is the tent Debbie Marshall was meant to be sleeping in. Jo is rescuing a piece of material to help with the tent Debbie had been given to sleep in as Debbie's new tent would have got soaked because of the bad weather.
Jo putting Debbie Marshall's loan tent up.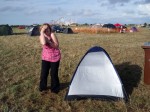 Debbie Marshall is trying to help as she was only a novice.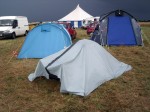 Look at that sky, here comes the storm. Good job Jo reinforced Debbie Marshall's loan tent with that extra cover.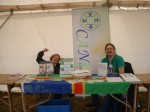 Debbie Marshall and Phil Cumler representing CANadda.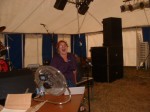 Jo, one of the speakers.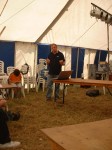 Geoff Evans, one of the speakers.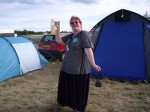 Jo on her way out for a night out.
Jo getting ready to party.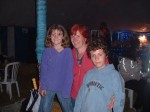 This is Joy with her daughter Sally and her son Bradly, enjoying the evening.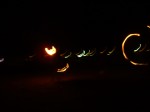 Fire blowing going on.
---
1st Birthday and Raising Awareness Launch 14th August 2010
The 14th of August 2010 was a special occasion as CANadda celebrated its first anniversary with the launch of new posters and leaflets for Raising Awareness of ASD, Dyslexia, Dyspraxia and ADHD. Everyone enjoyed the event, the good conversation and food went down well. It was good to bring people together.
An excerpt from Debbie's speech:
I can't believe a year ago I was starting CANadda up. I never thought this time last year how much I would have achieved in that time. I would never have been able to have achieved everything without the help and support of the committee and support team, as they all deserve a big thank you. I still to this day haven't realised how big CANadda's potential could be, but I do recognise that there is still a lot of work CANadda needs to do, to make a huge difference to adults in Lincolnshire who have ASD, Dyslexia, Dyspraxia and ADHD.
Debbie at CANadda's first anniversary.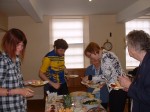 Enjoying the buffet.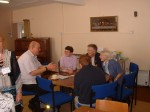 Having a chat.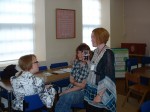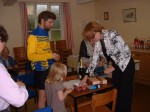 Raffling some excellent prizes.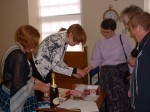 ---
Whisby Walk 6th August 2010
A few photographs from a very enjoyable nature walk and picnic around Whisby.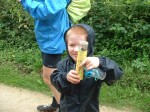 Jacob caught a slug, he was very proud to show it off.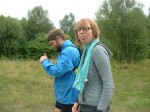 Geoff and Zoe enjoying their walk.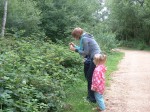 Zoe has caught an insect for Jacob.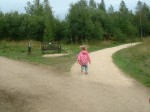 Sophie is running ahead.
---
Bowling March & June 2010
This year's bowling events have been well attended and are a lot of fun. Congratulations to Sarah Jonhson who was the June 2010 winner and Tony Dennis who was the winner in March.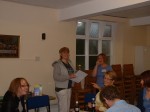 Sarah Johnson June 2010 Winner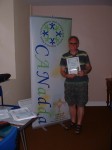 Tony Dennis March 2010 Winner

---
Positive About Disabled People 21st December 2009
CANadda have been awarded the disability symbol from Jobcentre Plus. This means that CANadda may use the "Positive About Disabled People" logo on it's stationery where appropriate.
CANadda received a certificate from Jobcentre Plus and this was displayed at CANadda's christmas party.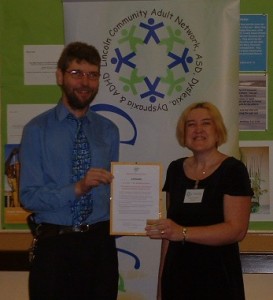 Debbie and Geoff with the certificate.
CANadda gives equal rights to all committee members and other contributors no matter what their disability or health and we believe that everyone has the right to be treated with respect and have equal opporunities in their dailty lives.
---
Co-op Grant Presentation 11th November 2009
Debbie and Hayley attended a presentation at the Bentley Hotel in Lincoln.
They were there to collect a cheque for CANadda from Lincolnshire Co-operative.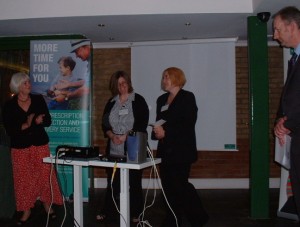 Debbie accepts the cheque on behalf of CANadda.
Hayley and Debbie were made to feel very welcome. Debbie said "I felt really honoured that Lincolnshire Co-operative chose us and gave us a chance, as starting out with a group like this is so hard without funding. I really want to thank Lincolnshire Co-operative on behalf of CANadda."
---
Bowling 11th November 2009
CANadda had it's very first social event. We went bowling at Lincoln Bowl in Washingborough.
We had two games which was so much fun for us and we all stayed on for lunch afterwards which was relaxing. Lincoln Bowl made us feel welcome and took care of us.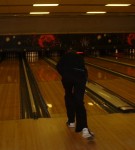 Geoff has never been bowling before, this is his first bowl…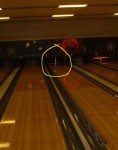 Beginners luck
Geoff, enjoying the experience.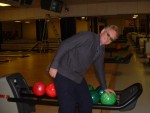 Tony reloads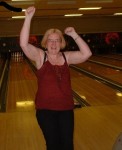 Debbie won the first game "I was surprised, considering I haven't played for years". Tony won the second game, just beating Debbie.
Tony celebrates winning the second game.
Sandra and Geoff – "We've been beaten again".
We had a really good time and we all agreed to make it a regular event. We hope to be holding our next bowling event some time in February 2010.
---
Autism Conference 10th November 2009
Debbie and Hayley represented CANadda at the first ever conference to be attended by the group.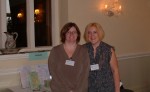 Hayley Left. Debbie Right.
We were at the 11th Annual Moore House Autism Conference at Branston Hall Hotel.
We had our first ever print run of CANadda leaflets which Debbie had picked up only the day before (many thanks to the Pelican Trust for getting them ready on time). The leaflets seemed to go down well and will hopefully do a good job of promoting the group.
It was fun and exciting. We enjoyed the day, listening to the different speakers and meeting lots of nice people.