Creativity
Autistic individuals are often good at some kind of creative activity as they can focus on detail or become very passionate about what they are doing as they can concentrate for hours.
Creativity comes in many forms and without creativity there will be no innovation. There are lots of different ways autistic individuals can be creative here are some of them.
Painting, drawing, play dough, chalking, using all kinds of materials, making music, playing an instrument, writing songs, singing, writing books, writing poems, putting together presentations, photography, knitting, dress making, acting, performing arts, dancing, architecture, cooking, talks / public speaking, creative computer games, comic books, drawing characters, art, crafts, film making, new inventions, toys, games, sculpture, gardening, graphic design, interior design, pottery, glass making and gymnastics.
CANadda is looking at showing off some autistic individuals creative work on our web site. If anyone is interested in anyone's creativity work they can contact them via CANadda.
---
Jon Adams - Flow Observatorium
Jon is artistic director of a new organisation 'Flow Observatorium' calling for parity and recognition of Neurodivergence as a distinct diversity category.
He was a speakers Art Fund Commission work 'Games with the water Hourse' at Venice Blennale and Turner Contemporary in 2015.
Jon Adam's work includes maps of train conversations, daily noting of his engagement with the Cultural Olymplad as a 'geological map'.
He is calling for a wider understanding of Neuordivergent culture within the Arts World, and recognition of the need for parity of opportunity and support for ND creatives to enable collation ND arts research, offer encouragement and peer support for ND artists, and empower arts organisations to become 'ND' enabling. We believe in a broad definition of Neurodivergence.
Click image to see more examples of Jon's artwork.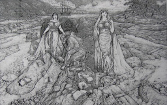 ---
Examples of art and creativity from the All Age Autism Strategy launch 2015.
---
Hi my name is Debbie Marshall and I am on the autistic spectrum. I love creating although I rarely have the time. Here is some of my work I have created over my life.
I made the wedding dress and bridesmaid dress in my early twenties. I had no help or support or previous experience. The Lassie dog I drew in 1987 one day. In 2014 I painted a tulip. This was the first painting I had achieved in over 15 years.
---
I am Sophie and I am autistic. When I was 9 years old I started doing magic shows. I performed on stage at the All Age Autism Strategy launch 2015 and in the same year I entered a talent competition and I came 2nd.