2022 Events
Bowl and Eat
We have had many bowling events through the year.
Bridlington Trip
We had a brilliant day out in Bridlington.
Cinema Trips
We had a number trips to the cinema trips this year to watch the lastest film releases which included:
Avatar: The Way of Water
Black Adam
Fantastic Beasts: The Secrets of Dumbledore
Batman
Lincoln Castle Picnic
Twice in the Summer holidays we went to Lincoln Castle for a chill and relaxing time.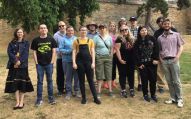 Trip To York
We had a brilliant day trip to York.
Lincoln Castle Illuminations
This event is an annual event for us as everyone loves it who attended.
Christmas Lunch and CANadda Awards
This event was loved by all that went, it was such a great experience for everyone. Very well done to all our winners.