Autistic Involvement
CANadda believes autistic individuals should be included and involved more in the community when it comes to autism and the environment especially when asked to make organisations autism friendly. This includes giving individuals a chance to show their unique differences and to value them no matter where they sit on the spectrum. We want to empower individuals and help them take a more active role to get them out in the community to feel valued and for them to get credit for the work they under take.
It is important to get individuals work recognised as they deserve to feel valued and part of society instead of feeling lonely and isolated. It will help their mental health and social skills as they will feel part of the community. It will help give them self-worth to add to their profile their experiences while learning new skills or enhance skills they are already good at doing.
We will present a certificate for anyone that involves this group of individuals and we have a Autistic Involvement logo to hand over as it is important autistic individuals start to get the credit and recognition for the work they do and the community can recognised that Autistic Individuals have been involved.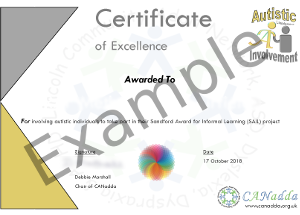 Outside Sensory Area 2019
This group wanted to do an outside project at the Hub so there was somewhere for us to sit. The idea was to also bring the community together as it was important that everyone had an opportunity to come, relax, enjoy and to help support their mental wellbeing instead of feeling lonely and isolated.
We took a small piece of unused and unloved land at the Hub where our office is and now this piece of land has now been transformed into a peaceful, beautiful sensory area. By us taking on this amazing project we have improved the environment there and we have made good use of outside space for everyone.
The group wanted to bring nature into the garden as it was important to attract bees, mini beasts and other insects. We also have an insect house to help us achieve this and we planted some sensory plants.
In the sensory garden there is a wooden corner seat, free standing rustic benches and hazel archways. There are some interesting things to find and do like the beehive finger sensory maze, mirrors, artwork for individuals to look at and touch.We have tried to include everyone that wanted to be involved in this delightful project especially the autistic community.
We made a film showing the creation of our garden and how it was put together - take a look on YouTube.
Metheringham Airfield Visitor Centre 2018
A group of CANadda's members (Tom, Dominic, Sue, Chris, Shaun and Debbie) finished a project with Metheringham Airfield Visitor Centre which was very successful as the project focused on autistic individuals. Well done to everyone involved, you can view our work on YouTube.
Sandford Award for Informal Learning (SAIL) project, the Learning team at Metheringham Airfield Visitor Centre. There is some information on Metheringham Airfield Visitor Centre web site about this project.
A Certificate was awarded to the Metheringham Airfield Visitor Centre for involving autistic individuals to take part in their Sandford Award for Informal Learning (Sail) project.
24th Lincoln (Saxilby) Troop
On Tuesday 13 November 2018, 24th Lincoln (Saxilby) Troop invited CANadda to take part in raising autism awareness. Abby, Dominic, Jacob and Debbie went along to talk to the scouts and their leaders. The scouts also took part in some role playing and because it was Anti-Bullying week. The scouts did some fabulous posters.
A certificate was presented to them.

Specsavers Lincoln High Street

Specsavers Lincoln High Street become autism friendly back in 2017. Debbie and Tom helped with this. Both Debbie and Tom visited the store and had a look around feeding back what difficulties individuals may have. We also provided them with autism awareness training to the staff.
On the press release Debbie Marshall from CANadda said:
'This is excellent news and I was delighted when I was contacted by Specsavers in Lincoln. It has been an absolute pleasure working with them. It's extremely important that autistic people are listened to, as we often feel unheard and left out of any involvement in delivering training on autism awareness and understanding'.

'I wish Specsavers the best of luck and I am confident the store will do fantastically, as we were taken seriously. This means that autistic children, young people and adults, can access an optician and feel included when Specsavers hold its autism friendly sessions.'
An autism friendly certificate has been awarded to them.
Clarks Lincoln High Street
Denise, who works for Clarks shoes, has for over 18 years been offering a fantastic service to help autistic children, children with special needs and their families. Denise, by appointment only, helps by allowing them to come in before Clarks opens its doors to the public so shoes can be fitted and purchased in a relaxed environment without having other customers around. There isn't any music on and the lighting is turned down. To find out more please visit Clarks for more information.

Debbie has known about this service for many years and recently she visited Clarks and spoke to Denise to find out if this service Denise offers is still going. Debbie was satisfied that Clarks meets the needs of autistic children and is very happy that they are autism friendly.
An autism friendly certificate has been awarded.
G4S L&D Initial Police Learning Team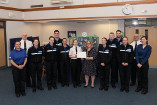 Back in 2010, Debbie was asked to deliver some autism awareness training which turned out to be delivered to the new recruits and PSCO students. Even if the training has been autism focused she decided to do it around neuro diveristy which included ADHD, dyslexia and dyspraxia. To date Debbie has still been providing this training as she has been asked back over the years.
Debbie said "I am so happy to keep being asked back, I love going and talking to them. It is right that an actual autistic indivdiual should be delivering autism training".
A certificate was presented to them on 18 January 2019.