CANadda Autism Friendly Bowling and Eat Sessions
We regularly hold bowl & eat sessions throughout the year and we make them autism friendly as best as we can, to help make sure more individuals can access the event. Individuals can book their place with us via an email, messenger, phone call, texting or face to face. Children, young adults and adults are all welcome and we don't mind if they want to bring any favourite toy or a personal computer game console with them as long as the console is switched off at all times.
We can offer a meet and greet option; if you let us know prior to the day we will arrange to meet you outside in the car park area. The staff inside do know who we are and will direct you to us if you did come in and ask them. There will be the same person from CANadda who is be there from the start of the evening until the end of the night. No one is left there on their own at the end of the evening.
Sight – We don't use the glow in the dark lanes because of the flashing lights. We use the end lanes on the other side. Where we eat the lights are turned down.
Hearing – There isn't anything CANadda can do about the noise and level of noise as this environment can be a noisy place. We do hold our sessions at 5pm which often can be a quieter time. If you are looking at coming and you do have sensory issues around noise then you are very welcome to bring your ear plugs or ear phones with you.
You are welcome to have a break if it does get too much. You can get away by going outside. If the party room is free we are allowed in there when we eat. This helps make it a better environment for us to eat and the music gets turned off.
Taste – The food comes with the relish, mayo, coleslaw, mustard or another sauce separate in little pots on our plate. If you require any other changes then please let us know and we will get it all sorted for you. The bowling staff are very good at sorting out any food requirements. We sit down to eat around 7:30pm.
Behaviours - We are a very laid back group and anyone is welcome. We accept every one as an individual. The only time we would intervene with any individual behaviour is if they are offensive towards another member, don't have any respect or are rude, use violence or are in any way in danger.
Please note that it does work out cheaper if you do bowl and eat but you can choose to bowl and not eat or eat and not bowl.
CANadda is a support group that helps individual socialise and make, build and find friendships. We also help individuals build up their confidence; self-worth and self-esteem so they feel wanted and accepted.
---
Lincoln Bowling
Lincoln Bowling is where we bowl and eat.


Lincoln Bowling Entrance and Exit
Meet and greet option available and somewhere to go if you need a break.

Restaurant and Bar Area
We meet inside between reception and the bar.


Reception
This is where we get and return our bowling shoes.


Bar
This is where you can purchase your drinks.


Bowling Lanes
This is where we play bowling together.


Private rooms
This is where we eat together.



Restaurant Area
This is where we eat if there are no private rooms available.

---
Useful Links
For more information about where we bowl and eat visit the Lincoln Bowl website.
---
Downloads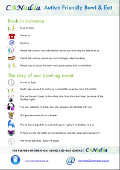 Easy read information about our bowling and eat sessions.